JOURNALISM IN THE AMERICAS Blog
Mexican daily El Siglo de Torreón suffers third armed attack in a week, after kidnapping of 5 staffers
The building of the Mexican newspaper El Siglo de Torreón was once again the target of another armed attack, making it the third in just a week, reported the Associated Press. On Feb. 25, a group of armed men opened fire against a group of Federal Police officers who were protecting the building; the next day, the outside of the building was shot about 30 times with automatic weapons fired from a car. In the latest incident, on Feb. 27, a bystander was killed, and a Federal Police officer and another person were injured, news agency EFE reported.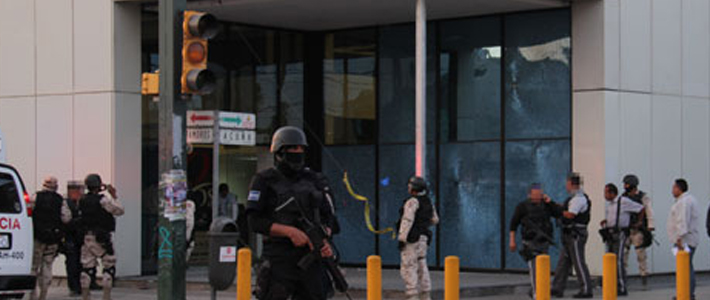 Federal Police agents have been posted outside El Siglo de Torreón since Feb. 8. Photo:
Artículo 19
.
Twenty days ago, an armed group of men kidnapped five of the newspaper's employees, which is distributed in the city of Torreón, in the Northern state of Coahuila. Since then, Federal Police agents have been posted outside the newspaper's building. However, no one has been arrested for the crime, newspaper Vanguardia and NGO Cencos reported.
"It's clear that the impunity in this case invited the aggressions of the last three days," said El Siglo de Torreón in an editorial commemorating its 91st anniversary.
In August 2009 and November 2011, El Siglo was the target of two other armed attacks, which haven't been investigated or solved by the authorities.
"The new attack against El Siglo de Torreón underscores the federal and local authorities' inaction in following up on attacks against the press and punishing the perpetrators, as well as the lack of adequate protocols to offer protection to media outlets who are the targets of recurrent attacks," said a press release that was signed by a group of 700 media outlets who are part of the Informative Coverage of the Violence in Mexico Agreement.
In the release, the media outlets also demanded authorities to guarantee safe conditions for journalists to do their job in the Comarca Lagunera region, which includes Coahuila and Durango, according to newspaper El Universal.
Both the Inter-American Press Society and the Coordinating Business Council of Mexico sent letters to the newspaper to condemn the attacks and demand an investigation.
Journalism organization Article 19 said it was "extremely worried about the risk that the staff of El Siglo de Torreón faces" given the "disproportionate and imminent" threats. The freedom of expression organization also denounced that the newspaper has not received support or a phone call from the members of the country's Mecanism to Protect Journalists, which was implemented in November 2012.
Despite the attacks, El Siglo de Torreón reiterated its commitment to continue informing with quality and veracity.