JOURNALISM IN THE AMERICAS Blog
Colombian news channel taken off the air after reporting on protests in Venezuela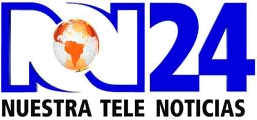 The Colombian news channel NTN 24, which transmits through cable in Venezuela, was taken off the air after reporting on the massive protests that shook the entire country on Feb. 12. According to Caracol Radio, the Venezuelan government said the news channel was misinforming on the events.
Idania Chirinos, content director of NTN 24, told Caracol that their coverage of the protests was absolutely impartial and true to the facts, and that the Venezuelan government didn't want the international media to inform on the situation. NTN24's signal was suspended from the two cable providers that broadcast the channel.
"I had enough time to send off the signal, the only thing we've done today is transmit this protest to our audience in Venezuela, which is very important, and we tried to send out information even though we know that there is a huge fence surrounding the media, and that we were warned that any channel that published images of violence would be taken off the air," Chirinos told Caracol.
According to El País, Chirinos said that the signal was suspended by order of Conatel, the regulatory agency of telecommunications in Venezuela. She also added that "it's very suspicious that right when opposing views of the violent events were being transmitted on Wednesday, NTN 24's signal was shut off."
El País reported that the channel is still transmitting in Venezuela via the internet, through their web signal, Facebook and various other links they're constantly changing, because they claim their web addresses keep getting hacked.
"The channel can't do anything else, other than warn about the fence surrounding freedom of expression in Venezuela. It's the government's decision," Chirinos told El País, adding that the censorship in Venezuela due to government measures won't allow Venezuelan citizens to be informed about what's happening, and that NTN 24 was one of the few windows the people had into what is really going on in the country.
In a press release, Claudia Gurisatti, general director of NTN 24, said that shutting off the signal is blatant censorship of the press and an attack on every citizen's right of being informed.