JOURNALISM IN THE AMERICAS Blog
Mexico and Brazil lead Americas in impunity for murders of journalists
Colombia dropped off the Committee to Protect Journalist's (CPJ) 2015 Global Impunity Index that was released Oct. 8, leaving Mexico and Brazil as the sole Latin American countries in the list of the top 14 countries where murderers of journalists "go free."
For the index, CPJ looks at unsolved murders that occurred in the previous decade for "which journalism is the confirmed motive." The exact dates considered are Sept. 1, 2005 to Aug. 31, 2015. The organization said it includes countries with five or more unsolved cases in which no convictions have been obtained.
CPJ reported that Colombia is the only country to drop off this year's index. Mexico is listed as 8th and Brazil as 11th.​
Colombia
Regarding Colombia, the organization noted convictions since 2009 in two cases in which journalists were murdered, yet said the overall improvement in the country is "largely attributed to a decrease nationwide in political violence and to a government protection program for journalists."
A major milestone for impunity in crimes against Colombian journalists came in June when a former Colombian legislator was sentenced to 36 years in prison for being the mastermind of the 2002 murder of La Patria deputy editor Orlando Sierra. The Foundation for Press Freedom (FLIP by its acronym in Spanish) said it was the first Colombian case in which the entire "criminal network" of a crime against a journalist was condemned by justice.
Photo of Flor Alba Núñez Vargas from her Twitter account
Also, the Protection Program for Journalists in Colombia, the oldest protection mechanism for journalists in Latin America, celebrated its 15th anniversary in August. Freedom of expression organizations took the occasion to note successes of the mechanism, but also problems including internal corruption scandals and lack of financial resources.
In its report on the 2015 Impunity Index, CPJ added that journalists continue to be threated and killed, as in the case of Flor Alba Núñez Vargas who was fatally shot outside her radio station on Sept. 10.
Mexico
Mexico now stands at the 7th place on the list with 19 journalists who have been "murdered with complete impunity over the last decade," according to CPJ. That is out of 23 murder cases documented by CPJ in the last decade in which the motive was confirmed to be related to journalistic work.
The country also has a federal mechanism for protection of journalists, but critics have pointed to its ineffectiveness since it was created in 2012.
The death of photojournalist Rubén Espinosa in August caught international attention as it took place in Mexico City, a place long-considered a safe haven for Mexican journalists from elsewhere in the country who felt threatened for their work. He and four women, including Veracruz activist Nadia Vera were brutally killed. To this date, three people have been detained, but police have not confirmed a motive, as reported by Article 19.
Brazil
In Brazil, CPJ reported successful convictions, but 11 remaining unsolved cases out of 19 total in the last decade.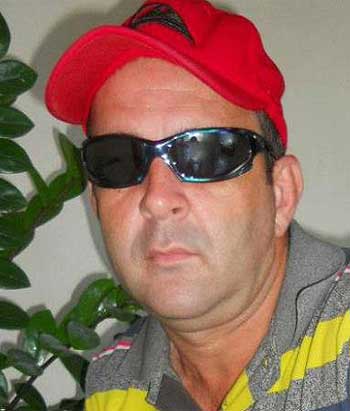 Walgney Assis Carvalho. Photo: Facebook/Estado de Minas
"Despite a growing record of convictions, deadly violence against journalists continues to outpace justice in Brazil," the CPJ report said.
In August, a man was sentenced to almost 30 years in prison for the 2013 murders of Walgney Assis de Carvalho and colleague Rodrigo Neto. A former police officer has also been sentenced to 12 years in prison for Neto's murder.
CPJ stressed that in these convictions and most others, accountability did not reach masterminds of the crimes.
"Prosecuting those who order killings of journalists remains a key challenge to breaking Brazil's cycle of violence, particularly when taking into consideration the fact that local government officials are the leading suspects in the majority of cases," the organization said.
The map below shows cases of journalist murders in which total immunity remains.
[*Editor's Note: CPJ has a system of determining whether a journalist has been killed in relation to their work. There are journalists who died during the time period that are not included on their list.]