JOURNALISM IN THE AMERICAS Blog
Journalists attacked by police during protest in São Paulo
In a violent action carried out by the military police to disperse protesters in São Paulo during a demonstration against increased transportation fares held on Tuesday, Jan. 12, at least nine media professionals were wounded, according to Abraji (the Brazilian Association for Investigative Journalism).
Staff from the site UOL witnessed scenes where police assaulted journalists with blows from batons, pushing and tear gas, which was launched toward properly identified groups of reporters with professional badges and helmets with the word "Press," according to a UOL report.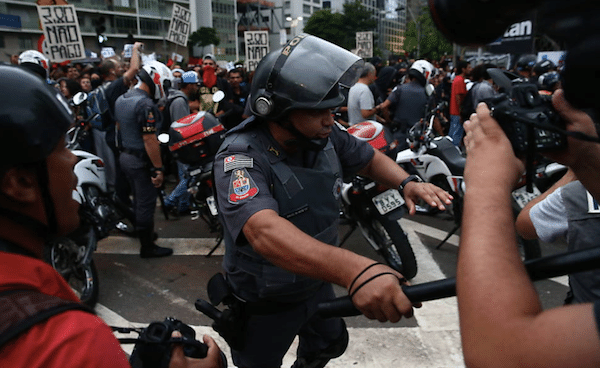 Police remove journalists from protesters. Photo: Eduardo Anizelli/Folhapress
Following repudiation of the attacks from news organizations, police sent a note that proposed a uniform that would identify reporters and photographers during demonstration coverage, according to Paraná Online. According to the note, the uniform would enable, police in particular, an immediate way to identify a member of a press agency.
According to the Association of Professional Journalists of the State of São Paulo (SJSP for its acronym in Portuguese), reporters Camila Salmazio (Rede Brasil Atual) and Fernanda Azevedo (TV Gazeta) were targets of stun bombs dropped by the police, and the photojournalist Felipe Larozza (Vice) was beaten with baton blows. In addition, Abraji cites attacks on journalists Pedro Belo (Veja SP), Márcio Neves (UOL), Alice Vergueiro (Folhapress) and Francisco Toledo (agency Democratize), in addition to photographers Raul Dória (freelancer), Alex Falcão (Futurapress) and Caio Cestari (autônomo).
"The professionals covering these protests need to take precautions to avoid a repetition of the events of 2013 and 2014, when hundreds of media professionals were injured in demonstrations. In 2014, Abraji compiled a safety manual for protest coverage. It is a collection of internationally adopted practices combined with suggestions from Brazilian reporters who were injured in the 2013 demonstrations. Abraji expects that the right to cover protests will be upheld andthat journalists are not attacked again," the association said on its Facebook account.
Since demonstrations in the streets of Brazilian cities started to gain traction in June 2013, there have been large numbers of attacks on journalists covering the events. In 2014, a majority of assaults on journalists happened during public demonstrations, according to a report produced by the National Federation of Journalists (Fenaj for its acronym in Portuguese). The most serious case was that of the Brazilian cameraman Ilídio Santiago Andrade, who died in Rio de Janeiro after being hit in the head by an explosive device while covering a demonstration against the increase in bus fares in February 2014.