In the wake of the COVID-19 pandemic, the Knight Center stepped up its online learning efforts and adapted its other programming to respond to journalists' changing needs.
In the beginning of the pandemic, we offered a multilingual MOOC on covering COVID-19 to thousands of journalists from around the world, and during 2020 we expanded our operations: we launched a new institutional website and a new hub for our distance learning program, moved our International Symposium on Online Journalism fully online for the first time in its 21-year history, and launched a new digital news magazine, LatAm Journalism Review, where we publish in-depth reporting on press freedom, journalism innovations and more in Latin America and the Caribbean. 
As this tumultuous year comes to an end, we're reflecting on the Knight Center's work in 2020 and looking ahead to how our programming will continue to be of service to the journalism industry in 2021. 
Here are some highlights from our work in 2020:
JOURNALISM COURSES
This year, the Knight Center launched the website journalismcourses.org as a new digital hub for our 17-year old distance learning program that offers free or low-cost training for journalists around the world. Our new Journalism Courses offers a collection of self-directed courses, e-books, a news blog and other educational resources. And it's the gateway to our new and expanded learning management system, where our instructor-directed courses are offered. 
In 2020, the Knight Center offered 15 online courses that reached more than 38,000 students from 193 countries. Since launching our massive online courses in 2012, we've reached about 234,000 students from 200 countries and territories. 
In the spring, shortly after the pandemic hit, we organized our most ambitious MOOC project yet: four multilingual MOOCs titled "Journalism in a Pandemic: Covering COVID-19 now and in the future." The courses, offered in English, Spanish, Portuguese and French, attracted nearly 9,000 students from 162 countries and provided journalists from around the world with much-needed, free training on how to better understand and cover COVID-19. The four courses were sponsored by the United Nations Development Program and the Knight Foundation, and were organized in partnership with UNESCO and the World Health Organization. Self-directed versions of these courses are now available in six languages: English, Spanish, Portuguese, French, Russian, and Arabic, with plans to also provide versions in Hindi and Chinese. 

The COVID-19 MOOC project — which was recognized by WHO's director general Tedros Adhanom Ghebreyesus at a media briefing in August — had a meaningful impact on journalists worldwide. In a course evaluation, one student said: "As Covid-19 changed our lives, this course changed my way of practice in journalism." Another said the MOOC helped him & his team adopt "a more rigorous protocol for fact-checking & a more careful approach to confronting fake news."
Our other 2020 courses, which were offered in English, Spanish and Portuguese, focused on topics such as digital investigations for journalists, gender perspective in newsrooms, ethics and equity in data journalism, the power of audio storytelling, and more. Many of our courses were the result of collaborations with other organizations, including Google News Initiative, the International Women's Media Foundation, Chicas Poderosas, the UNESCO, and the Special Rapporteur for Freedom of Expression of the Inter-American Commission on Human Rights (IACHR). In the spring, the Knight Center teamed up with UNESCO and IACHR to create a new Spanish-language course for judges and other justice system operators in Latin America. In the seven years since these courses began, we've reached nearly 12,000 Ibero-American judicial operators.  
We have several new courses lined up for 2021 and have just opened registration for a new Spanish-language MOOC, "Diversity in the News and Newsroom," which starts January 11 with support from Google News Initiative. The MOOC will be followed by a related conference on diversity in Latin American journalism. 
We are also organizing MOOCs on newsletter strategies for journalists, data journalism, and product management in newsrooms, and we're hard at work producing another multilingual COVID-19 MOOC focused on the vaccines. The MOOC on vaccines is set to launch in late March, and we'll be holding a related webinar in late January. 
ISOJ
The International Symposium on Online Journalism, the Knight Center's main conference, was disrupted by the pandemic, and we had to cancel our typical two-day, in-person ISOJ in April as a result. But we transformed it into a five-day, fully online ISOJ that broke records.
ISOJ 2020 featured our biggest program ever, a record number of speakers & topics covered and the largest global audience in our 21-year history. Of the 4,790 people who registered, 1,632 attended at least one live session of ISOJ on Zoom -- four times the number of people who usually register for ISOJ in Austin. ISOJ 2020 was also streamed live on YouTube (in English and Spanish) & the YouTube videos have gotten more than 27,000 views. 
ISOJ Online featured 22 sessions led by 81 speakers (50 of whom were women) in 21 countries. The sessions -- which included panels, keynotes & workshops -- explored the most pressing topics in online journalism, including COVID-19 coverage, disinformation & misinformation, solutions journalism & building trust. Here's a snapshot of some of the speakers who joined us:
Sérgio Dávila

, editor-in-chief, Folha de S. Paulo (Brazil)

Charlotte Godart

, open source investigator, Bellingcat (the Netherlands)

Nikole Hannah-Jones

, reporter, New York Times Magazine

Kathleen Kingsbury

, editorial page editor, The New York Times

Kai Kupferschmidt,

contributing correspondent, Science (Germany)

Laura Barrón-López

, national political reporter, POLITICO

Alexi McCammond

, political reporter, Axios

Juan Pardinas

, general editorial director, Reforma (Mexico)

Maria Ressa,

founder and CEO, Rappler (Philippines) 

Craig Silverman

, media editor, Buzzfeed (Canada)

Cristina Tardáguila

, associate director, International Fact-Checking Network

Matt Thompson

, editor-in-chief, Center for Investigative Reporting

Millie Tran

, chief product officer, Texas Tribune

David Weigel

, national political correspondent, Washington Post
During this year's ISOJ we also celebrated the 10th edition of the #ISOJ Journal, the official publication that is part of the conference's research component. Unlike traditional academic journals that often take a year or two to publish peer-reviewed articles, #ISOJ Journal is available every year at the annual conference. This year's journal, available here online, focused on "Power, privilege and patriarchy in journalism: Dynamics of media control, resistance and renewal." The Knight Center's research group has also been actively working on projects.
ISOJ 2020 didn't just break records; it fostered a global exchange of ideas and cultivated the adoption of best practices to advance innovations in the field. In her post-ISOJ evaluation, one attendee said: "In this lousy year, what a breath of fresh air to hear from many leading journalists from so many places." Another called it "the best conference I have been to in a long, long time." And one longtime attendee tweeted: "Every important event in my career can be traced to connections I made at ISOJ -- research, teaching, professional collaborations, grants, as well as cherished friendships!"
We hope you'll save the date for ISOJ 2021, which will be held fully online from April 26-30. Registration will open in January, and we'll post related updates on isoj.org.
IBERIAN-AMERICAN COLLOQUIUM ON DIGITAL JOURNALISM 
This year we transformed our 13th Coloquio Iberoamericano de Periodismo Digital into an online event. The Colloquium is held every year the day after ISOJ and typically attracts 100 to 125 journalists, media executives and scholars from Latin America, Spain and Portugal who travel to Austin to attend ISOJ. 
The 2020 Colloquium attracted our biggest audience yet: 751 attendees on Zoom and thousands more on YouTube, where the event was live-streamed. 
The Colloquium featured speakers from Spain, Portugal, Brazil, Mexico, Colombia, Cuba, Nicaragua, El Salvador, Uruguay, Argentina, and Chile, among other countries. Their talks focused on  a variety of topics, including how the pandemic created opportunities for small digital media in Latin America, how women have emerged as leaders of several independent digital media in Latin America, and how journalists in Nicaragua and El Salvador are persisting despite government hostility.
LATAM JOURNALISM REVIEW
In 2020, the Knight Center launched LatAm Journalism Review, a contemporary digital trilingual magazine that grew out of the Knight Center's 17-year-old Journalism in the Americas blog. 
We believe that free and independent journalism is one of the pillars of a democratic society, and LJR is an expression of this. The site aims to equip journalists with more knowledge and tools to fulfill their civic roles to better inform and engage the communities they serve. In the same way as the blog before it, LJR is a unique publication of record regarding journalism in Latin America and the Caribbean.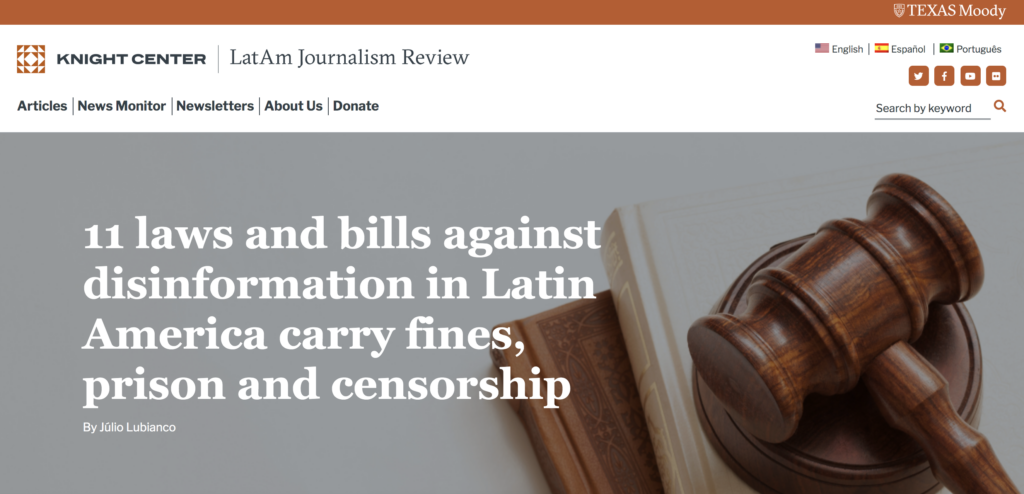 LJR features in-depth, original reporting on press freedom and journalism innovations in Latin America and the Caribbean, and it's produced by a team of journalists in Austin, including Moody College of Communication journalism students and contributors based in Latin America and the Caribbean. The site also publishes a News Monitor — a compilation of headlines of the most important news related to journalism and press freedom published by news organizations in Latin America and the Caribbean. 
Here's a look at the most interesting and important stories that the LJR team reported and published in 2020:
We hope you'll visit latamjournalismreview.org for more stories in 2021 and that you'll subscribe to our weekly trilingual newsletter.
SPEAKER SERIES
In 2020, the Knight Center continued its Speaker Series with two noteworthy talks. The first Speaker Series event was a "slow journalism" workshop featuring longtime journalist Don Belt on behalf of the Pulitzer Center. The Knight Center organized the workshop, titled "Slow Storytelling in the Digital Age" in collaboration with the University of Texas at Austin's School of Journalism and Media. 
In November, we held a virtual Speaker Series talk with Steven Dudley, co-founder and co-director of InSight Crime. Dudley talked with UT students and others about the think tank's 10-year anniversary and his new book, "MS-13: The Making of America's Most Notorious Gang."
******
The Knight Center's work wouldn't be possible without generous support from the Knight Foundation, Google News Initiative, Microsoft, UNESCO, ICHR/OAS, and more. We don't normally ask for donations, but we would appreciate your support as we enter the new year — which will be filled with innovative programming aimed at providing journalists with training opportunities, resources, news and information. If you're interested in making a donation to the Knight Center, (which is tax-deductible for U.S. residents), you can do so here.
Lastly, we invite you to take a look at this short video, which highlights the Knight Center's work and programs:
We're grateful for the Knight Center community and look forward to serving you in the new year. We hope you'll register for our courses, follow our LJR site, and join us for ISOJ in April. There is much to look forward to in the year ahead!