A new course from the Knight Center for Journalism in the Americas, "How to Use ChatGPT and Other Generative AI Tools in Your Newsroom," is resonating with a massive global audience. The course, which started on Monday, Sept. 25, has already attracted nearly 8,000 participants from around the world and there is still time to register.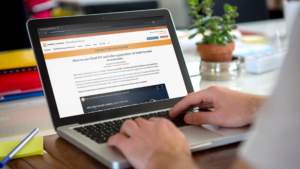 The free online course is available in English, Spanish, and Portuguese, and the English version alone already has students enrolled from 147 countries and territories spanning more than 75% of the world. This international turnout underscores the course's importance and the Knight Center's ability to foster a global learning community, while also making a strong impact in the United States– the country with the highest number of participants (944 as of Friday, Sept. 22). 
The course started Monday, Sept. 25, and registration is still open. Register now!
The massive open online course (MOOC) will be taught by expert instructors Aimee Rinehart, senior product manager of AI strategy for the Associated Press' groundbreaking Local News AI initiative, and Sil Hamilton, a machine learning engineer and esteemed AI researcher-in-residence at the pioneering journalism organization Hacks/Hackers. Joining them as assistant instructors are Mexican journalist Mariana Alvarado for the course in Spanish, and Brazilian journalist Pedro Burgos for the version in Portuguese.
"Generative AI is here to stay and will only improve and expand – it's a good idea to get in now and learn as it develops," Rinehart said. "There are countless ways in which generative AI can help journalists: from transcription, sorting disparate data, producing newsletters and scheduling social media. Generative AI tools can really help to scale what a journalist covers and the reach of that coverage." 
From Sept. 25 to Oct. 22, 2023, instructors will guide students through the types of AI that can be leveraged across news operations, how to implement and work with this technology, and how the next few years might unfold for the technology and industry. 
"The [journalism] industry has a duty to pay attention to these tools, not only because they can reduce writing burdens on journalists and free up time to investigate, but also because the industry has something to contribute to this new tech: journalists are in a unique position to improve the technology for the better. This means turning the spotlight on this tech," Hamilton said. "Journalists are in the business of writing about the world, and computers are now about 90% of the way there, up from 5% just a few years ago. The technology is developing quickly, and it's important to stay on top of it." 
This course is for those who want to learn more about this emerging technology and experiment for personal use or across a news operation. It's open to reporters; editors; product teams; publishers; advertising, marketing, and HR departments; and anyone else interested in the impact of AI on journalism.
Register today for "How to Use ChatGPT and Other Generative AI Tools in Your Newsroom." Don't miss this free course and the chance to become part of the Knight Center's global learning community that is shaping the future of journalism!