Microsoft and the Knight Center for Journalism in the Americas at the University of Texas at Austin's Moody College of Communication are teaming up to announce a $10,000 data journalism training opportunity for a Latin America newsroom.
The funding, given by Microsoft in partnership with the Knight Center for Journalism in the Americas, is aimed at providing a Latin American newsroom with hands-on data visualization training that will enhance its capacity to tell compelling stories in the digital age.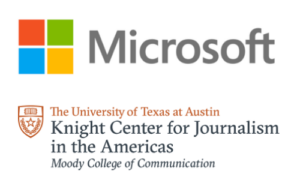 This opportunity will be open to newsrooms whose journalists have taken at least one of the Knight Center's four most recent Spanish-language data journalism MOOCs. The Knight Center will contact the students from these MOOCs to let them know they are eligible to apply.
Applications are available at aka.ms/KnightCenterDataJournalism and will remain open until November 15, 2020  at 11:50PM PST. However, it is only open to former students of the following MOOCs:
Introducción al Periodismo de Datos
Herramientas Digitales para el Periodismo de Datos
Herramientas Digitales para el Periodismo de Datos (2)
Periodismo de datos y visualización con herramientas gratuitas
Judges from Microsoft News and the Knight Center for Journalism in the Americas will review the applications over the coming months and will collectively choose a newsroom to receive the $10,000 award in winter 2020. Training will be conducted in English and will begin in January 2021, to allow time for newsrooms to gather data.
This initiative is a reflection of Microsoft's and the Knight Center's shared commitment to delivering free training (like this ISOJ 2020 data journalism workshop) to help newsrooms achieve more and better serve their audiences. It's also a reflection of the growing need for journalists to develop data journalism skills. Data journalism grounds stories in fact, makes information transparent to its audiences, and distills an essential narrative from what could otherwise be an overwhelming swamp of information.
"As part of our mission to empower every person and organization on the planet to achieve more, we recognizes not just the fundamental need for a free press, but also the fundamental need for the free press to have the resources and skills they need to find, create and share stories with their citizenry," said Ben Rudolph, global senior director, Content Ecosystem.
"This training opportunity comes at a time when data journalism has never been more important," said Rosental Alves, director of the Knight Center for Journalism in the Americas. "We are excited to work with Microsoft to support one Latin American newsroom's efforts to embrace data visualizations through hands-on, practical training that will strengthen the newsroom's reporting and storytelling."
Microsoft partners with publishers through its Microsoft News ecosystem, which reaches more than 500 million people in 180 countries every month through personalized feeds on MSN, Bing, and Microsoft Edge, as well as global syndication partners. Through its News Labs initiatives, Microsoft is working to advance the art, science, and business of journalism through technical innovations that speed and scale reporting, modernize newsroom operations, and drive audience connections.
The Knight Center for Journalism in the Americas was created in 2002 by Professor Rosental Alves, Knight Chair of Journalism at the Moody College of Communication at the University of Texas, thanks to the generous donations of the John S. and James L. Knight Foundation. The original goal of the Knight Center was to help journalists in Latin American and the Caribbean with professional training and capacity building. The Knight Center continues to have a strong presence in Latin America but in recent years has grown into global operation thanks to its massive online courses that have reached more than 250,000 students in 200 countries and territories since 2012.