The Knight Center's popular MOOC, "Journalism in a Pandemic: Covering COVID 19 Now and in the Future," is now available as a self-directed course in six languages: Arabic, Russian, English, Spanish, Portuguese and French.
The Arabic and Russian versions were just published this week and are the latest additions to the Knight Center's growing library of self-directed courses, available on JournalismCourses.org.
The self-directed courses were previously offered as an instructor-led MOOC in four languages: English, French, Portuguese and Spanish. The project had widespread reach, attracting 9,000 students from 162 countries.
Now the self-directed versions of these four MOOCs, plus the Arabic and Russian self-directed versions, are available on a special course page at JournalismCourses.org.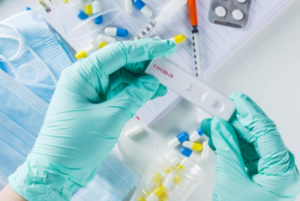 "Eight months into this pandemic, we continue to see journalists play a key role to help us through these challenging times," said Guilherme Canela, chief of the Freedom of Expression and Safety of Journalists Section at UNESCO. "They hold authorities accountable regarding policies to respond to COVID-19, they help citizens stay well informed, and crucially they verify facts amidst the massive wave of disinformation and misinformation that has washed over us alongside the virus. These self-directed courses help journalists help us."
The self-directed courses feature video classes, readings and interviews with experts and are available to anyone else who wants to access the materials. In these courses, journalists will gain new knowledge and access to resources to improve their coverage and understanding of the pandemic. They will learn about the origin of the disease, how to cover it, potential treatments and vaccines and a path forward.
This project was made possible thanks to support from the Knight Foundation, UNESCO, United Nations Development Programme (UNDP) and the World Health Organization (WHO). UNESCO played a critical role in the creation and translation of the Arabic and Russian self-directed courses, and both courses were supported by the European Union as well. In the coming months, self-directed versions of the pandemic MOOC will also be available in Hindi and Chinese.
The Russian self-directed course was translated by science communicator Olga Dobrovidova. She is a senior copywriter of the Skoltech Press Service, associate professor of practice at ITMO University, acting president of the Association of Communicators in Education and Science (AKSON) and vice president of the European Federation of Science Journalism.
Elsa Rizk translated the Arabic self-directed course. She holds a master's degree in interpretation from Université Saint-Joseph (USJ) – Beirut and has been an interpreter/translator since 2004.
Overall, the MOOC and accompanying self-directed courses have had widespread impact and reached journalists and other media practitioners from around the world.
"In these terrible times of the pandemic, journalists around the world need tools to improve their coverage of the spread of COVID-19," said Professor Rosental Alves, founder and director of the Knight Center. "The MOOC we offered last May with an excellent team of instructors led by Maryn McKenna has already helped thousands of journalists, including many who had no experience in science journalism and suddenly had to cover a pandemic. So, now we are happy to extend the reach of this program though a self-directed version of the MOOC and in six languages."
Tedros Adhanom Ghebreyesus, director general of the WHO, highlighted the Knight Center's course, "Journalism in a pandemic: Covering COVID-19 now and in the future," during a daily briefing in late August.
"We are learning new things about this virus every day and journalists are critical to helping us communicate that information to the public in a way that saves lives," Ghebreyesus said. "We will continue to promote science, solutions and solidarity because we believe to our core that we do it best when we do it together."
In the coming months, we will be developing new training for journalists who are covering the pandemic, particularly around combatting disinformation and covering the vaccination.