After bringing together nearly 2,000 students from 50 countries for the online course "Diversity in News and Newsrooms," the Knight Center for Journalism in the Americas at the University of Texas at Austin will hold the First Latin American Conference on Diversity in Journalism on March 26 and 27.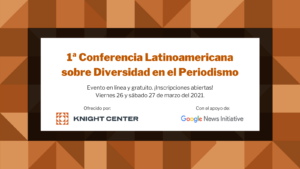 The event is completely free and online, with the development of two sessions a day on topics such as Gender, Sexual Orientation, Racial and Ethnic Issues and Disability. Registration is open and those who attend the four sessions (offered in Spanish) will be able to receive a free certificate of participation.
The event is sponsored by the Google News Initiative, which also supported the realization of the MOOC (massive, open, online course) "Diversity in News and Newsrooms," from Jan. 11 to Feb. 7.
"This is the first conference of its kind to be held in Latin America. We seek to promote diversity and inclusion in the news that is published and in the newsrooms that produce that news," said Professor Rosental Alves, founder and director of the Knight Center. "The issues of diversity, equity and inclusion are on the agenda in many parts of the world and may be a bit late in certain areas of Latin American journalism. But this is the hour. And we are happy to be able to contribute with this pioneering conference."
The idea, Alves added, is to hear from the personal experiences of some fellow Latin American journalists who have promoted coverage of these issues and to discuss the diversification of newsroom teams so that they better represent the communities they serve. "Today, more than ever, it is also vital to promote the use of anti-racist discourses and practices," the Knight Center director emphasized.
The Conference is aimed at Spanish-speaking journalists, journalism students, academics, and editors interested in diversity issues. So far the participation of journalists such as Marco Avilés, who works between Peru and the United States and writes about racism and diversity for media such as The Washington Post and Ojo Público, has been confirmed.
Paula Cesarino Costa, the first diversity editor of Brazilian newspaper Folha de S. Paulo, will also participate, as well as Lucia Solis Reymer, gender editor of Grupo La República in Peru; and Eladio González, general editor of Expansión in México.
Other participants include:
Alejandra Higareda, director of Malvestida.com, Mexico
Belén Arce Terceros, editorial director of Chicas Poderosas, Argentina
Cristian Alarcón, writer and journalist, founder of Anfibia and Cosecha Roja, Argentina
Teresa Juárez, screenwriter and journalist, training coordinator at Periodistas de a Pie, Mexico
Andrea Burga Villanueva, journalist and creator of the blog ConCapacidad, Peru
Andrea Medina, journalist and founder of www.integradoschile.cl, Chile
Verónica González, broadcast journalist, communication coordinator of Agencia Nacional de Discapacidad, Argentina.
Priscila Hernández, academic and journalist, collaborator for magazine Nexos, Mexico
Lina Cuellar, director and cofounder of Sentiido, Colombia
Luz Mely Reyes, cofounder and general director of Efecto Cocuyo, Venezuela
Caê Vasconcelos, reporter of Ponte, Brazil
Don't forget to register here for the First Latin American Conference on Diversity in Journalism.
When: Friday, March 26 and Saturday, March 27
Hours: 2 sessions per day at 10:00 am and 2:00 pm CT
Free event and completely online
Certificate of Participation for those who attend the 4 sessions