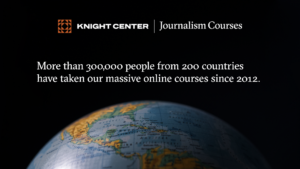 The Knight Center for Journalism in the Americas surpassed a significant milestone, training more than 300,000 people from 200 countries and territories since it started massive online courses in October 2012 through its Journalism Courses platform.
More than 10,000 students registered for the Center's most recent course, pushing it toward this amazing accomplishment. "How to use ChatGPT and other generative AI tools in your newsroom" is available in English, Spanish and Portuguese, with participants from 157 countries.
This success underscores the Center's commitment to providing accessible, high-quality, free or low-cost journalism training on a global scale.
"The Knight Center has become the world leader in massive courses for journalists," said professor Rosental Alves, founder and director of the Knight Center. "Journalists from all countries have shown a great appetite to learn about the latest trends in the industry, the new skills that are needed to better perform in a rapidly changing media ecosystem affected by the digital revolution."
Knight Center courses are meant to help journalists be better equipped to serve their audiences, but are open to anyone interested in journalism, including all kinds of communicators, students and professors.
Since 2003, the Knight Center at the University of Texas at Austin's Moody College of Communication has been at the forefront of online training for journalists, offering a curriculum of courses on topics ranging from new trends such as solutions journalism, podcasts, explanatory journalism and product management to the latest impacts of technology in areas such as generative artificial intelligence, data visualization, virtual reality and 360 video.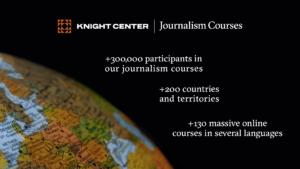 Since the massive courses started 11 years ago, the Center has offered more than 130 online courses, most of them in English, Spanish and Portuguese, the most spoken languages in the Americas. However, some courses have also been presented in several other languages including Arabic, French, Guaraní and Russian, and more.
As part of its Journalism Courses program, the Knight Center offers MOOCs (massive open online courses), which attract thousands of people, are more introductory in nature, are free and open for a period of time (usually three to four weeks). Course material from the MOOCs is generally republished as self-directed courses, becoming part of a library that can be accessed at any time. The Center also offers Big Online Courses (BOCs), which are limited to just a few hundred students, focus on more advanced topics and are paid.
"The massive online courses offered by the Knight Center for Journalism in the Americas are important for the wide range of vital skills students can learn from professors and guest speakers, many of whom are working at the highest levels of the field," said John O'Neil, New York City-based journalist, editor with Bloomberg News.
O'Neil, who was the instructor of the course "Explain this! How explanatory journalism informs and engages audiences," said that, "for people trying to do important work in difficult circumstances, the MOOCs can be a source of support as well as a path forward."
The impact of the Knight Center's MOOCs extends far beyond the acquisition of essential skills. These courses serve as dynamic hubs where working journalists, professors, other industry professionals and anyone interested in journalism from diverse backgrounds converge to exchange ideas, perspectives and experiences.
"Our online courses form amazing learning communities formed by people from all over the planet who are interested in the same topic: the improvement of journalism in their countries, as a way to contribute to a better, more just world," Alves said.
Instructors and guest speakers from notable media companies like the Associated Press, The Washington Post and The Wall Street Journal, and top-tier journalism schools like the University of Southern California's Annenberg School for Communication & Journalism and the University of Texas at Austin's Moody College of Communications, offer valuable insights, creating an environment that fosters collaboration and innovation.
Knight Center courses bring quality training to corners of the world where journalists often would not otherwise have access to high-level learning opportunities. The courses have also attracted journalists from some of the most important media outlets around the world, like The New York Times, Boston Globe, El País (Spain), The Economist (UK), The Straits Times (Singapore), ABC (Australia), Yomiuri Shimbun (Japan), Globo TV (Brazil) and Deutsche Welle (Germany).
Notably, participants have turned their course experiences into successful journalistic projects and collaborations.
For example, during the 2021 course "Audio Storytelling for Journalists: How to tell stories on podcasts, voice assistants, social audio and beyond" taught by Tamar Charney of NPR, freelance journalist Lezak Shallat was one of 392 participants from 50 countries. Initially hesitant to share an audio passion project she had stopped working on in 2017, Shallat found a platform to present her project through the course discussion forum. Her story about a jailbreak of political prisoners from an island on Lake Titicaca caught the attention of fellow classmate Tomás Pérez Vizzón, the director of Fugas, an Argentine podcast series specializing in jailbreak narratives.
That first connection through the course forum led to months of investigation, interviews and scriptwriting, resulting in a podcast episode that was later turned into a live, immersive audiovisual experience. This innovative approach to audio storytelling not only captivated audiences in Argentina, but also earned a spot at the Gabo Festival in Colombia. This project showcases how the Knight Center's program not only provides accessible, first-class courses but also fosters spaces for collaboration and networking among students enrolled in them.
The Knight Center's achievement of training more than 300,000 students serves as a testament to the institution's dedication to advancing the field of journalism through accessible, quality education. As a result, students who have taken the courses have been able to continue the Center's mission by creating other meaningful resources to help even more journalists.
Ryan Restivo, founder of the Slack application YESEO and 2022 Reynolds Journalism Institute (RJI) Fellow, has taken multiple Knight Center courses and is currently planning to take another.
"In my RJI Fellowship project and release of YESEO, I have definitely used lessons learned from the Hands-On Data Journalism class when creating an app for Slack that serves hundreds of workspaces," said Restivo, whose app leverages the power of generative artificial intelligence to help newsrooms with SEO best practices.
"These courses were my first experience in large online courses with peers and they have set the bar for what I expect when it comes to learning from great leaders in this space," he said.
The Knight Center's massive online courses are asynchronous, allowing students to complete activities during the days and times that best suit their schedules, while still providing structure so students don't fall behind.
"The Knight Center's massive open online courses offer students a flexible format of completing coursework at their own pace while still meeting weekly deadlines. The interactions in the forums help the instructor and participants engage in sharing experiences and reflections that are an invaluable compliment to the curriculum," said Hugo Balta, publisher of the Latino News Network and instructor of "Solutions Journalism: New ways of elevating your reporting and engaging audiences."
Students also appreciate the format of the courses.
"These MOOCs helped old-school journalists like me upgrade our skills so we don't get overtaken in the digital highway," said Charmaine Deogracias, editor and social media manager at VERA Files and student of multiple Knight Center courses. "Taking the course at your own time and pace makes it very convenient for journalists that have newsroom deadlines to meet. And the instructor's recap at the end of every week sent by email makes catching up a breeze."
As the editor and social media manager of VERA files, known for its role fact-checking false information in the Philippines, Deogracias has used strategies learned in the courses that "have been useful in debunking health misinformation."
"The course on digital investigations for journalists, the process of verification learned from it, and the digital tools shared there are now part of our fact-checking workflow," she said.
Similarly, Inês F. Alves, executive-editor at Portugal's MadreMedia and Journalism Courses student, said, "the format of the courses allows me to take it on the schedule that is more convenient to me. That's a big plus for me and my team."
In 2023, she took courses on Explanatory Journalism and Solutions Journalism.
"As a team we have been rethinking our approach to the way we do news. The courses helped me to have a 'crash course' on these two approaches," she said.
The Knight Center's online courses offer working journalists a platform to diversify and learn new skill sets while managing their demanding full-time roles. Journalists can promptly integrate the new skills learned, immediately impacting their journalistic work. The Center's curriculum is structured to meet the evolving demands of the media industry, allowing professionals to balance their careers with their professional growth.
Shaena Montanari, Enterprise reporter at Spectrum in New York City, especially appreciates the flexible course format and the immediacy in which these new skills can be used.
"When I took the advanced data journalism class, I learned how to make maps in R from Andrew Tran and then was able to immediately make a useful map for a story I was working on, so I really appreciated that knowledge," Montanari said. "I like that they are self-paced, but there is incentive to keep up with the class and talk on the discussion board. The fact that videos are divided up into chunks is also very helpful because it is hard for me to find time to sit down and watch a whole 40 minute video at once. Breaking it up really helps me get it done when I have a few spare moments."
With more than 300,000 students now empowered by the Knight Center's Journalism Courses program, the Center has become the frontline of excellence and accessibility in journalism education worldwide. The impact of this program goes beyond classrooms and forums: it resonates in newsrooms, stories, and journalistic communities around the world.
Please share your experience with the Journalism Courses program by emailing the Knight Center at journalismcourses@austin.utexas.edu.