Stories showing the impact of climate change are in the news every day. Even still, not every journalist is prepared to tell them.
For this reason, the Knight Center for Journalism in the Americas is offering the free multilingual online course "How to Cover the Climate Crisis — and Fight Disinformation," thanks to support from Google News Initiative. The course will be led by John Schwartz, a journalism professor at the University of Texas at Austin who until recently was a science writer  for The New York Times.
Over a four-week period, students will learn about climate science and climate journalism, and disinformation efforts targeting them. Register now!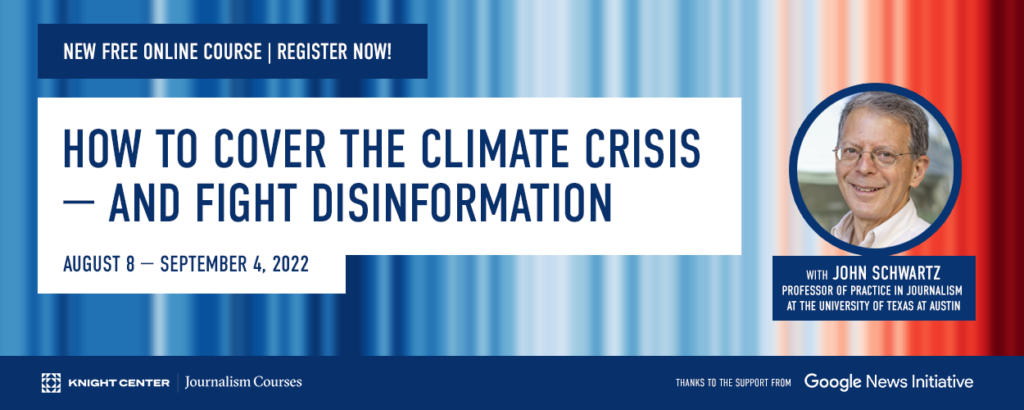 "It's important for all journalists to learn a little bit about covering climate change, whether they are science or climate journalists or not, because climate is bleeding into almost everything," said course instructor John Schwartz. "And so, if you're a business journalist, you have to understand what companies are doing. If you're a social justice journalist, you have to understand the equity issues that are involved in climate change. A food reporter needs to know how climate is affecting the crops that reach our table."
"There is no beat that doesn't have a climate angle today. So, reporters need to have familiarity, at least with the basics, to be able to tackle the issues as they come into their beat, without fear," Schwartz said.
The massive open online course (MOOC) will be held in English, Portuguese and Spanish. Schwartz will teach the course with the assistance of science journalists Meghie Rodrigues in Portuguese and Emiliano Rodríguez Mega in Spanish.
Each module will take place over the course of a week:
In module 1, students will go over what we know about climate change and why we know it, including the science that has affirmed its existence
In module 2, the instructors will teach what climate change is and isn't and how that impacts the stories you tell about it
In module 3, students will learn how to identify disinformation about climate change and how to counter it
In module 4, the instructors will teach how to tell human-based stories about climate change that will engage readers
Disinformation surrounding climate science will be an important part of the course.
"Anyone who writes about climate change can expect to get pushback from people who don't accept the scientific evidence and who both infect disinformation and who feed it back to you," Schwartz said. "When you write about climate, you can expect a fight. And so understanding the tools of disinformation, understanding not just why climate change is happening and what it is, but also being able to analyze the arguments of people who come at you, is very important and understanding the history of disinformation and being able to put that in the context of what the world has been through."
Schwartz will also emphasize the importance of not just focusing on polar bears in peril, but the people who are affected by climate change.
"One of the things I'm pushing very hard in the course is that it's up to news reporters to find the kinds of stories that work, that reach readers," Schwartz said. "I'm a long-time science reporter. I've spent years of my career learning about science and writing about studies. But, that can't be the only way that you write about climate change, because climate affects real people in their lives and telling their stories gets the word out to people around the world. Those are the stories that people respond to.
"I love my science stories, and I think that they're an important part of climate journalism. But, we can all do a better job by telling stories better." That involves bringing the issue close to home and telling stories about those affected by climate change, Schwartz said.
"We are grateful to Google News Initiative for their support that made this trilingual MOOC possible and feel lucky to count on a team of instructors led by my colleague John Schwartz who, for many years, was one of the best American journalists covering climate change," said professor Rosental Alves, founder and director of the Knight Center. "We are also lucky to count on assistant instructors with Meghie Rodrigues, from Brazil, and Emiliano Rodríguez Mega, from Mexico, both science journalists who have covered climate change issues in their countries."
Schwartz is a journalism professor at the University of Texas at Austin School of Journalism and Media and associate director of its new Global Sustainability Leadership Institute. He worked for 21 years at The New York Times, including on the climate change beat. He previously also worked for The Washington Post and Newsweek. He is also the author of several books.
Schwartz will teach the course over four weeks using video lectures, readings, discussion forums and quizzes. The course will be asynchronous, meaning students can complete the activities during the days and times that work best for their schedules. There are recommended deadlines so you don't fall behind.
Those who successfully complete course requirements and pay US $30 are eligible for a certificate of completion. No formal academic credit is associated with the certificate.
It's a critical time to be learning about how to report on climate change and its impact on the world around us, so we hope you'll sign up for this important course. "Climate change is the defining issue for our present and future," assistant instructor Meghie Rodrigues said. "We are altering the Earth's natural systems and, with them, our chances of being around as a species. How long can humans endure on an inhabitable planet?"
Regardless of beat or focus, all journalists are invited to participate in this course and improve their coverage of climate change.
"For me, few topics illustrate the extremes of human nature as well as the climate crisis. It is where, as journalists, we find stories about dislocation, tragedy and deception. But also about hope and altruism. All this mixed with an urgency that we have probably never seen before," assistant instructor Emiliano Rodríguez Mega said. "Covering this crisis in all its complexity, with all its nuances, must be one of the most difficult tasks for any journalist. At the same time, I don't think there is anything more important.
So join journalists all over the world who are covering the story of our lifetime and register for this course today!