A recent multilingual course on covering the climate crisis is now available as a self-directed course after reaching 3,810 students from 151 countries.
The massive open online courses (MOOCs), "How to cover the climate crisis – and fight disinformation," ran for four weeks, from Aug. 8 to Sept. 4, 2022. They were organized by the Knight Center for Journalism in the Americas with support from Google News Initiative.
Those MOOCs are now available as self-directed courses and can be accessed and taken on JournalismCourses.org at any time and from anywhere in the world in English, Spanish or Portuguese.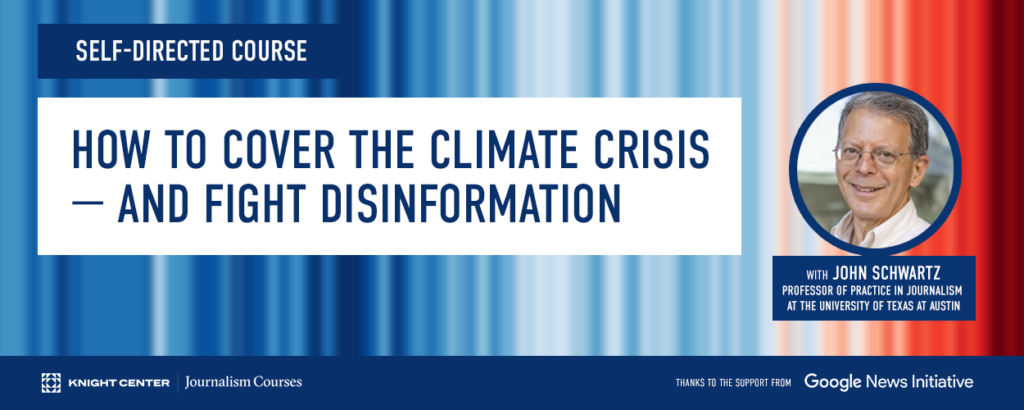 Students get an introduction to climate change, explore what a climate story is, learn to spot and combat disinformation, and learn to identify and write climate stories.
The courses are taught by science journalist and professor John Schwartz, who is assisted in Spanish by science journalist Emiliano Rodríguez Mega and in Portuguese by science journalist Meghie Rodrigues.
"I thought the students were fascinating; they came from all over the world to tune into this!" said Schwartz, a former New York Times science reporter who now teaches journalism at the University of Texas at Austin.  "Varying degrees of readiness and knowledge and language, of course, but they were united by curiosity, and I loved that."
The self-directed versions of these courses include video lessons, readings, extra materials, and exercises.
"This course seems to me to be a fundamental tool for any journalist interested in covering the reality of the 21st century, regardless of the source they cover," said Rodríguez Mega, who is based in Mexico City. "If there was one thing that struck a chord with the students, I think, it was the realization that the climate crisis interacts and becomes entangled in almost every aspect of daily life and human experience."
"John's extensive experience brought a very special flavor to the course and gave the opportunity to everyone taking it to hear from world-class, stellar interviewees on the matter," said Rodrigues, who is based in Paraná, Brazil. "Also, the materials and topics in the course were absolutely essential to understand the basics of the conversation around climate change and spotting disinformation about it."
During the instructor-led version of the course, students were able to participate in discussion forums and hear from Schwartz, Rodríguez Mega and Rodrigues directly.
Argentine journalist Valeria Foglia mentioned the benefits of interacting in course forums with colleagues from around the world, especially those not initially working in the "environmental niche."
"It reinforces something I already thought: the basic notions of the global climate and ecological crisis, 'the greatest story of our time,' must cross all sections of the media," Foglia said. "Unilateral coverage no longer works."
Álvaro Samaniego, an independent journalist from Ecuador who took the MOOC, mentioned two important takeaways from the course.
"Journalism on climate change is evolving every day because the effect that causes it, global warming, changes every day and its study generates new theories and more knowledge," he said. "On the other hand, digital journalism is a science in development, I would say that it is still in its teenage years, so the exchange of knowledge, experiences, methods and tools allows us to build a solid theory."
Azamate Cheque, a fellow course student and investigative journalist from Mozambique,said the course has helped with a project he is working on about natural resource management.
"The knowledge I gained during the course will help me to write articles related to the climate with a scientific basis and thus avoid fake news," said Cheque, who pointed out that his country is one of the world's most affected by climate change.
For Brazilian journalist, Luciana Carneiro Leāo, the most important lesson of the course was "having access to more credible information about the possible 'traps' that, many times, are between the lines of imperceptible texts and discourse."
"The course taught us to see these fallacies and how they can easily mislead a fact or even, unfortunately, laymen without access to truthful information," she continued.
So, join this global community of learners and start on or continue your journey of improving coverage of climate change and avoiding the disinformation that often accompanies the topic. Check out our self-directed course in English, Spanishor Portuguese, today!