Seventy percent of women journalists have been harassed, threatened or attacked, according to a report from the International Women's Media Foundation (IWMF) and TrollBusters. A global survey carried out for the report found that one-third of female journalists considered leaving journalism because of online attacks and threats.
Learning who online trolls are and who is backing them, as well as bolstering your digital security and finding ways to confront online harassment, are essential skills for female journalists all over the world.
The free course,"Online Harassment: Strategies for Journalists' Defense," will teach women journalists and their allies how to protect themselves online, how to deal with online harassment and how to find networks of support.
This Knight Center course is held in partnership with IWMF and will run from Nov. 16 to Dec. 13. Sign up today!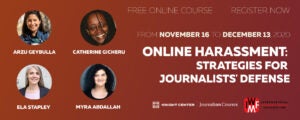 "The idea is that we build techniques that journalists can use and these will be practical steps that people can take. It's not just a focus on digital security; that sounds like a big scary word," said lead instructor Ela Stapley. "These are really just basic steps you can take as a journalist to help manage your online profile and to help take back the amount of information that's on the internet about you."
Stapley will be joined by co-instructors based around the world, including Arzu Geybulla, Catherine Gicheru and Myra Abdallah. Each expert will be in charge of a weekly module and will speak about the strategies they've used to deal with online harassment.
The modules will cover the following topics:
Week one, taught by Geybulla,is an introduction to online harassment around the world and will give coping strategies for dealing with it.
Week two, taught by Gicheru, looks at understanding privacy online as a journalist and how to better protect yourself online.
Week three, taught by Stapley, will look at the kinds of trolls you might encounter online, who their networks of support are and how you can document abuse from them.
Week four, taught by Abdallah, reviews protecting online accounts, safe browsing and communications and online and offline support systems for journalists being harassed.
Stapley said her work around the world has shown harassment to be "an increasingly complicated issue that is global."
"The techniques that the harassers use may be different, but the objective is the same and the objective is to remove women journalists from the public sphere and to restrict freedom of expression," she said.
Due to the global nature of online harassment, instructors were chosen because of their international experience and their knowledge of the intersection of journalism and digital security in different contexts.
Recent work from Geybulla, a freelance journalist from Azerbaijan who is currently based in Istanbul, looks at the use of information controls and authoritarian technology. Gicheru, an International Center for Journalists Knight Fellow and project director of the African Women Journalism Project, was the first female bureau chief in East Africa. Stapley has worked around the world helping women with digital safety needs as a digital security trainer with IWMF and other organizations. And Abdallah is head of the media department at the Arab Foundation for Freedom and Equality and communications manager for the Arab region for Women in News. 
"We were looking there to get a wide breadth of people in all regions," Stapley said. "This is because online harassment varies in terms of the type of harassment that happens in different areas around the world."
Although journalists are more likely to come forward now to talk about being harassed online, there are still a lot of people in newsrooms or working freelance who are dealing with it alone. Some women, Stapley said, assume it's just part of the job.
"This is not the case," she said. "There can be strategies and you can make important networks of support."
The course is geared toward female journalists but open to men and women in media who want to develop strategies for dealing with possible cases of online harassment, which unfortunately are becoming more frequent around the world. It's also relevant to newsroom managers who want to help their staff navigate issues of harassment and online trolling.
Course activities consist of video lectures, readings and handouts, participation in discussion forums and weekly quizzes.
Students who successfully complete the weekly quizzes and participate in the discussion forums are eligible to earn a certificate of participation at the end of the course. The administrative fee for the certificate is $30 (thirty U.S. dollars). It is awarded by the Knight Center for Journalism in the Americas and attests to participation in the course. No formal course credit of any kind is associated with the certificate.
Like all Knight Center courses, this MOOC is asynchronous, meaning you can complete the activities at your own pace and at the times that best suit your schedule. There are recommended deadlines so you don't fall behind.
"We're pleased to be partnering with IWMF on this important course, which is led by a stellar team of instructors who will bring a global perspective to their teachings," said Mallary Tenore, associate director of the Knight Center for Journalism in the Americas. "This course will offer valuable pointers for journalists who have experienced online harassment firsthand, those who want to better protect themselves online, and those who want to support others who are dealing with these issues. Our hope is that students in this course will come away with practical strategies that they can implement to feel safer on the job."