"We are at a crucial moment in the fight for the rights of women, Indigenous peoples and Afro-Latin Americans," said Marco Avilés, Peruvian journalist and editor. "And despite this, many of our large media outlets in the region still do not fairly integrate staff from these demographic groups."
To address this situation, the Knight Center is offering a free online course in Spanish on news diversity. Avilés will teach the massive open online course (MOOC), "Diversity in the news and newsrooms," which runs from Jan. 11 to Feb. 7, 2021 and is offered in alliance with Google News Initiative. Click here for more information about the course, including step-by-step instructions on how to register.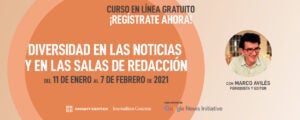 In four weeks, Avilés will explore how diversity can transform the profession, making it more democratic internally. It will also show how this in turn creates relationships with readers. Avilés also will give strategies on how to diversify newsrooms, and show tools to eliminate racial biases and stereotypes when it comes to coverage.
"Today, more than ever, the public (and especially young people) are seeking to be represented in the media and in the cultural products they consume," Avilés said. "For this reason, a media outlet that does not embrace diversification is an outlet that is cutting its feet because it is giving up its own audience."
Going farther, taking an anti-racist perspective reveals the causes of a lack of diversity in media, according to Avilés.
"That there are no Afro-descendants or Indigenous people in the most important media in a country is due to a decision of the media outlet, obviously, but also to the way our public and private institutions work in Latin America," Avilés explained. "Let us not forget that our countries have been formed during centuries of colonization, and that from that history we inherit our racial grammar, ideals of beauty and also a social structure that prevents people from Afro-descendants and Indigenous people have access to better services, for example."
An anti-racist approach, therefore, is the "driver of efforts to diversify newsrooms and coverage," he added.
"You don't want to have diverse people in your midst just to congratulate yourself," the instructor said. "You want to have a diverse staff because by having it you are ceasing to reproduce, in your own media outlet, historical disparities and because this diverse staff will allow you to narrate the history of that diverse country where you live more closely to your audience."
In the weekly modules, Avilés will interview experts, including: Paula Cesarino Costa, the first diversity editor of Brazilian newspaper Folha de S. Paulo; Krissah Thompson, diversity editor at The Washington Post in the U.S.; Keith Woods, chief diversity officer at NPR in the U.S; and Yásnaya Aguilar, linguist, Maya-Mixe communicator and columnist at Spain's El País.
Avilés is a journalist and editor who works between Peru and the U.S. He writes about racism and diversity for media outlets like The Washington Post and Ojo Público, and gives workshops on the topics around the world. He wrote the books "Día de Visita," "No soy tu cholo," "De dónde venimos los cholos." He is former editor and director of narrative journalism magazine Etiqueta Negra and experimental magazine Cometa. He also collaborated with outlets like El Comercio (Peru), The New York Times, The Washington Post, Smithsonian Magazine, El malpensante, and others.
The course is open to all journalists, journalism students and editors in the Americas who are interested in diversifying their newsrooms and news and using an anti-racist approach.
Students will view video lectures, as well as readings and handouts. They will also participate in discussion forums and take weekly quizzes.
Students who successfully complete the weekly quizzes and participate in discussion forums are eligible to earn a certificate of participation at the end of the course. The administrative fee for the certificate is US $30. It is awarded by the Knight Center for Journalism in the Americas and attests to participation in the course. No formal course credit of any kind is associated with the certificate.
Like all Knight Center courses, this MOOC is asynchronous, meaning you can complete the activities at your own pace and at the times that best suit your schedule. There are recommended deadlines, however, so you don't fall behind.
This course is offered in alliance with Google News Initiative. In February 2020, the Knight Center offered the course "Inclusive coverage: gender perspective in newsrooms," also with support from GNI. And from June to August 2020, we had the MOOC "Women, Power and Media: a leadership course for journalists," a production of Chicas Poderosas. The course was part of that organization's project with GNI.
"This important course will help journalists in Latin America think more deeply about diversity in their newsrooms and in their news coverage. The course will foster a peer to peer learning community and will offer up best practices and practical takeaways that journalists can implement in their work and newsrooms," said Mallary Tenore, associate director of the Knight Center for Journalism in the Americas. "We are incredibly grateful to Google News Initiative for supporting this course and related programming. Our collective efforts to help journalists in Latin America better understand diversity will extend well beyond the MOOC; in early 2021, we'll hold a related conference and publish an accompanying ebook."