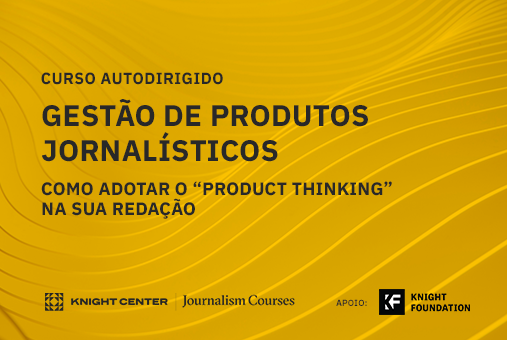 A free, self-directed online course for journalists to adopt product thinking in their newsrooms is now available to take at any time and at your own pace.
"News product management: How to adopt 'product thinking' in your newsroom" is taught in Portuguese by Paty Gomes, director of products and technology at Brazilian news and technology startup JOTA. It's available now; get started today!
The course covers challenges of using a "product mindset" in journalism; how to apply a "product vision" to existing products and evaluate performance; adopting "product vision" for new projects; and multitasking and communicating to ensure success.
Journalists with a product already being delivered or those with an idea to develop can benefit from this program.
The course, divided into four modules, consists of video lectures, presentation slides, course readings and supplementary material.
For the course, Gomes interviewed four guest speakers:
Juan Torres, program manager at the International Center for Journalists (ICFJ);
Marina Aranha, director of engagement at EPTV;
Talita Bedinelli, co-founder and editor of special projects and community at Sumaúma Jornalismo; and
Luciana Cardoso, head of product at Bandplay and vice president of the board at News Product Alliance.
"News product management" first ran as a massive open online course (MOOC) in Portuguese from Feb. 13 to March 12, 2023. During that time, it attracted 1,326 students and was offered for free thanks to support from the Knight Foundation.
"It was very interesting to realize, throughout the course, that people were able to learn practical tips to take the first step and could count on the community created in the course to share experiences," Gomes said. "Our experience as journalists gives us beautiful material to start in a product career. The course just gives you a little push."
So, take a first step and push provided by this exciting free online course and be on your way to adopting a product mindset for your journalism! Check out the course today!