More than 8,300 people have enrolled so far in the massive open online course (MOOC) from the Knight Center that focuses on how journalists can effectively cover the COVID-19 pandemic. The free course started two weeks ago, but registration is still open and there's still time in the next two weeks for new students to catch up and participate in this global learning community of journalists from more than 160 countries.
"It's been thrilling to lead a course that is resonating with other journalists in this way. I hoped we would fill a need, but I certainly never expected more than 8,300 participants!" said Maryn McKenna, lead instructor, award-winning science journalist, author and TED speaker.
The course is being taught simultaneously in four languages — English, Spanish, Portuguese and French.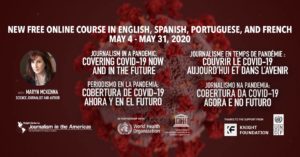 This free training program is organized by the Knight Center for Journalism in the Americas at the University of Texas at Austin, in partnership with UNESCO and the World Health Organization (WHO), with support from the Knight Foundation and the United Nations Development Program (UNDP). Availability in Spanish and Portuguese, and tailor-made activities to Latin American and Caribbean journalists, are possible thanks to UNDP support.
"You can still be part of this amazing learning community of journalists from all continents, from more than three quarters of the countries and territories of the world," said professor Rosental Alves, founder and director of the Knight Center for Journalism in the Americas, at the University of Texas at Austin. "In the midst of the tragedy of a global pandemic, we celebrate the interest of so many journalists and people interested in journalism who are joining this course to learn more about how to improve coverage of COVID-19."
McKenna is aided by assistant instructors in Spanish, Portuguese and French. Data-journalist Amanda Rossi, who has been covering the pandemic for Brazilian magazine piauí, leads the version of the MOOC in Portuguese; Federico Kukso, a science journalist and author from Argentina, is the assistant instructor in Spanish; and Yves Sciama, a science journalist from France and president of the French Association of Science Journalists, is the assistant instructor in French.
"In times of crisis and health emergencies like the COVID-19 pandemic that we are experiencing, quality journalism is more important than ever. In this regard, the Knight Center's massive, open and free online course is more than necessary: it gives journalists who do not usually cover health stories the tools and context necessary to report with social responsibility and to combat disinformation," Kukso said. "And especially, it allows them to connect with colleagues from all over the world to understand the pandemic in its global and local dimensions and to be able to tell stories from innovative and clarifying angles."
McKenna is also bringing in scientists and other journalists as guest speakers. So far, students have heard from Michael T. Osterholm, director of the Center for Infectious Disease Research and Policy at the University of Minnesota; Sonia Shah, science journalist, TED Speaker and author; Dr. Sylvie Briand, director of the Department of Global Infectious Hazards Preparedness at the WHO; and Kai Kupferschmidt, contributing correspondent for the journal Science.
"As the course has gone on, I've begun to get a better sense of who the participants are. Many of them are in low- and middle-income countries, where journalism has few resources — and cut another way, many of them are new to covering health and science, having been transferred from other beats," McKenna said. "All of this validates our expectations at the start, that it was important to begin sharing skills and curating knowledge for journalists covering what may be the story of our lifetimes."
In course discussion forums, students are sharing not only skills, but also story ideas.
"I am impressed by the huge student participation in the forums (it can be hard for the instructors to keep up!), and their creativity as far as study ideas are concerned," Sciama, the assistant instructor in French, said. "Yassine Saber from Morocco, for example, observes that the whole health system has been reorganised in his country so that COVID gets most of the available resources, which puts many vulnerable patient groups in situations of neglect, for example cancer patients, people needing dialysis or patients who have AIDS. His idea is to report on the situation of these groups."
Another example he pointed out was from Kpénahi Traoré from Burkina Faso, who suggested an investigation into the use of local languages in her country to make sure rural populations are getting public health messages.
"I have also seen many students engage in dialogues comparing the situations and government responses in their respective countries," Sciama shared.
This is the second Knight Center MOOC that Bethany Brookshire, staff writer for Science News for Students and contributor to Science News magazine, has taken, and although the course is still in its early stages, she said it's already been useful.
"I especially appreciate the interviews with scientists, and the historical perspective. So many people are referencing 1918 for a pandemic, but no one thinks about, say, 1956," Brookshire, who is also a host on the Science for the People podcast and a Knight Science Journalism Fellow at MIT.
"When I go back to work, I know that I'll be covering COVID-19 in one way or another. It's really important to me that I'm able to cover it to the best of my ability, to know where to get the best information and how to do the best reporting," she said.
Course readings are shedding light on the background and context surrounding this current pandemic.
"In these first two weeks, students were really impressed by previous warnings that the world could see another respiratory pandemic soon and that we should prepare for it," Amanda Rossi said. "Many of them shared comments saying they hadn't heard about it before and that the course encouraged them to look for more information, like preparation plans where they live. The course is definitely helping them to better prepare to cover this pandemic."
The MOOC (massive open online course) runs from May 4 to 31, 2020. There is still time to register and catch up, so sign up today!